How To Decorate Small Spaces for the Holidays
When space is at a premium, and your real estate to dedicate to holiday décor is limited, there can be some challenges to make sure that there's room for the cheer special to the season. However, there are many innovative and easy ways to use the best of a modern approach to holiday decorating, without sacrificing the efficiency and motion of your daily routine.
Modern holiday decorating and décor is really made for these creative small space workarounds. To capture the spirit of the season, there is no need for a Victorian style tree in 20 foot ceilings, if that's not what you're working with.

Most importantly: go minimal or maximal, but go all in.
Whether you want to have a vintage mix of patterns, or an earthy, organic style, this is the moment to indulge your aesthetics. The holiday season is not about restraint! That doesn't mean we are recreating Versailles in your home, or that we are advocating for a holiday clutter overload (we are definitively not doing that) but whatever design style you decide is yours, we think you should go all in and fully
commit. Even if the design style is a modern Scandinavian vision of blonde wood and white and some charcoal gray, make it the hygge-iest modern there ever was. And if it's a serene, elegant holiday
gathering you are after, then let's look at the floral printed china and rose gold tableware. And if you are somewhere in between, hanging crystal ornaments and taking selfies in front of a mantle draped in air plants, we can get behind that too, with some beautiful retro globe lights.

Small spaces absolutely lend themselves to bold holiday style because you can concentrate the decor in a small space, and make some key choices (and purchases) that will give you the most festive impact. As always, color, theme and location remain fundamental to making the wisest choices.
Consolidate efforts
You can create a modern version of the hearth in your home by grouping holiday décor in one area. Not only does clustering your decorations save space in other areas of your work or living space, but it will give you the chance layer a vignette that will make for fond, photogenic memories and entertaining.
Try creating an arrangement or vignette by incorporating a few different décor pieces: try out a combination of lights or a candle, a holiday decoration or something cozy like a soft blanket or felted ornament. And finally add some some greenery or other natural element. If you don't want to do a traditional evergreen bough, it could be a bowl of oranges, a vase of eucalyptus, or a shiny metallic tray with whole nuts scattered about.
Go big
We know that in a small space adding anything new can feel like it's going to tip the whole balance off kilter. But sometimes taking up some of your available and premium space with a one really lovely display of holiday décor feels luxurious and indulgent and will create that same energy in your space.

Sharp contrasts are often what helps us thrive in small spaces anyway -it's the quirky pleasure of having one perfect window in a railroad apartment, a giant closet in a tiny carriage house, a clawfoot soaking tub off of your kitchen or a great patio, well, with anything. A great patio really makes up for most everything, in our humble experience.
So we encourage you to find one place where you can trade your economy for something that "feels big."
Color
Let's make some initial decisions about your holiday décor theme and think about your color palette. Some options include choosing white or another neutral base color (we are always a fan of grey, but you could even pick something as deep as a navy) and then add a bright vibrant color to make a bold pop of style.
Or maybe you want to go with a deep emerald green and hot pink theme? Feeling a moody sea of blues for your table or living room? Go for it! With a little light and a little garland, you can use any color palette you like for the holidays and still create an extremely evocative and dynamic space for you, your family and friends to inhabit. Try some modern color blocking for clean geometrical lines if you want to avoid more romantic patterns, or a traditional plaid.
If you have a number of bold colors, use a white or other light colored neutral to change up the depth of field and give the eye a place to rest. An off-white with a vibrant cooler hue, or very light gray with a rich warm shade is a great way to partner a neutral to a vibrant color.
Texture
A fine finish! In the same way you added a pop of color, or some want to approach composing any decorating project with some unexpected twists, you can add a surprising gloss finish, or a rough-hewn natural element to insert some texture and surprise elements. Midwinter style often makes us think of jewel tones, but a matte finish can be extremely interesting and modern.
And if you need to get grounded or invoke some rustic holiday charm, use wood to warm it up. Wood is a great way to balance out the use of metallic, marble and stone, or a high gloss finish and give your table or home an earthier feel.
Mix it up with glass or metallic to add some glitz to your holiday vibe. The ethereal glitter of some sparkly ornaments, shiny candleholders, or these incredible glass garlands will add a luxurious feel to your décor.
Remember that any finish will work with some type of floral or green arrangement, and it's wonderful to have that natural texture and element be present in your design layout. A stone bowl of oranges, a mantle arrayed with sprays of seed eucalyptus, and some blue thistle in a glass vase – these are fantastic ways to layer textures in a completely seamless way that doesn't use up a lot of space. Even a small hammered brass bowl of hazelnuts can pack a huge holiday décor wallop.
And there's no reason for the muss and fuss of a live evergreen if you'd really prefer not.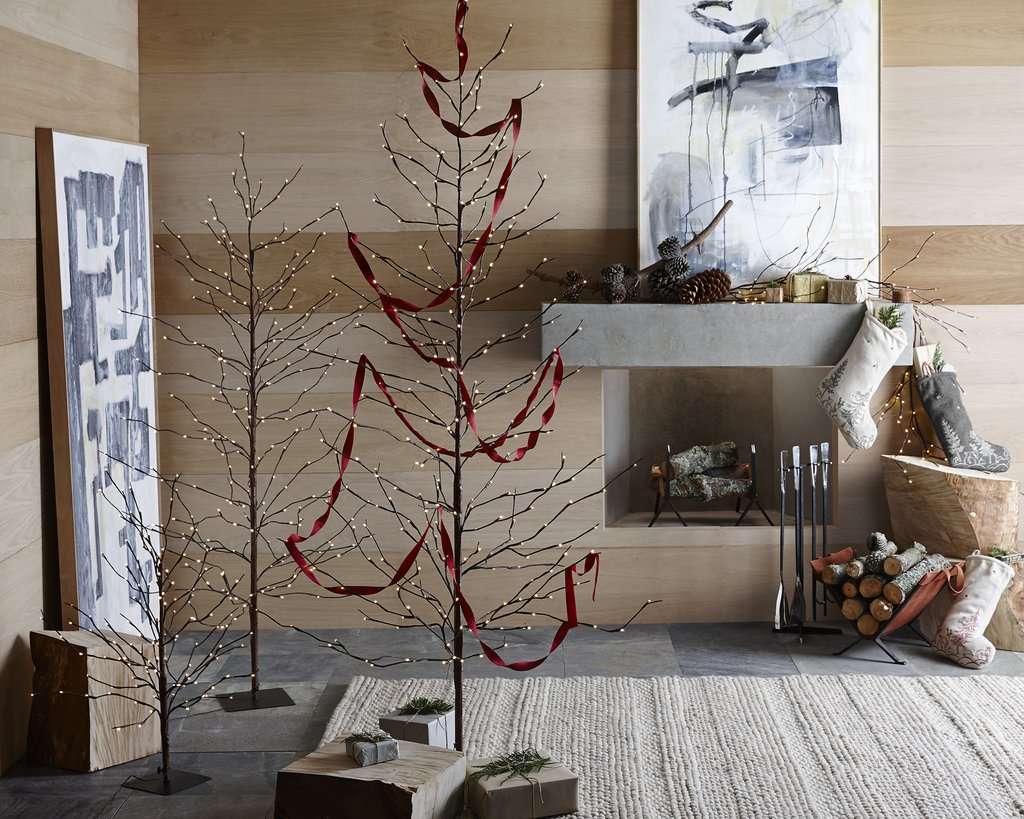 Location
In terms of the all-important location question – we want to curate our approach as much as we do color and texture in a small space. Layers and contrast are very important in defining the style and purpose of the different areas of your home. Too much clutter and beauty will be lost, so make sure that you have some empty space or clear surfaces around key style pieces and design components. You could keep the dining table very clean and geometric in an otherwise busy space, or have a magnificently abundant tabletop with very minimal décor all around it.
For starters, in small spaces, it's wise to put a tree where it won't interfere in daily routines (although what about a little-used dining area, say? If you are already ordering take out, or have a counter to sit at, try shoving the table over and putting a tree in there!)! But if you don't have the room or inclination, swap out a traditional holiday tree for a branch in a vase or a mini tree.
Make your holiday feel fresh
Thee current takes on familiar and nostalgic traditions bring some light and shine into your living space. Mix up some modern décor and vintage photographs to add depth and purpose. Plus then you'll have a chance to tell new friends old stories.

We adore using nontraditional modern neutral wreaths in a neutral palate, and then accenting with a pop of color. Check out these abalone shell wreaths, lighted birch trees, and very modern menorahs to add texture and an organic, modern element to your decor.
Throw some glitter
Use shiny throw pillows to make a bed, couch and chairs more festive and add impact to a holiday ambience without sacrificing space. Try for a mix of pillows in different shades of the same color palette, or you can mix and match with pillows that have a similar theme of pattern in different colors, or different patterns with the same color. Using some pillows with a metallic element, or some shimmer will reflect your holiday lighting and add to the warm glow of the room.
And if you are entertaining, and guests will be coming into a guest room or bedroom to put down coats or bags, some festive throw pillows on the bed or bench is a nice way to keep your holiday décor presence in every space. Check out these beauties from Classic Home - you may want to keep them in the mix through April!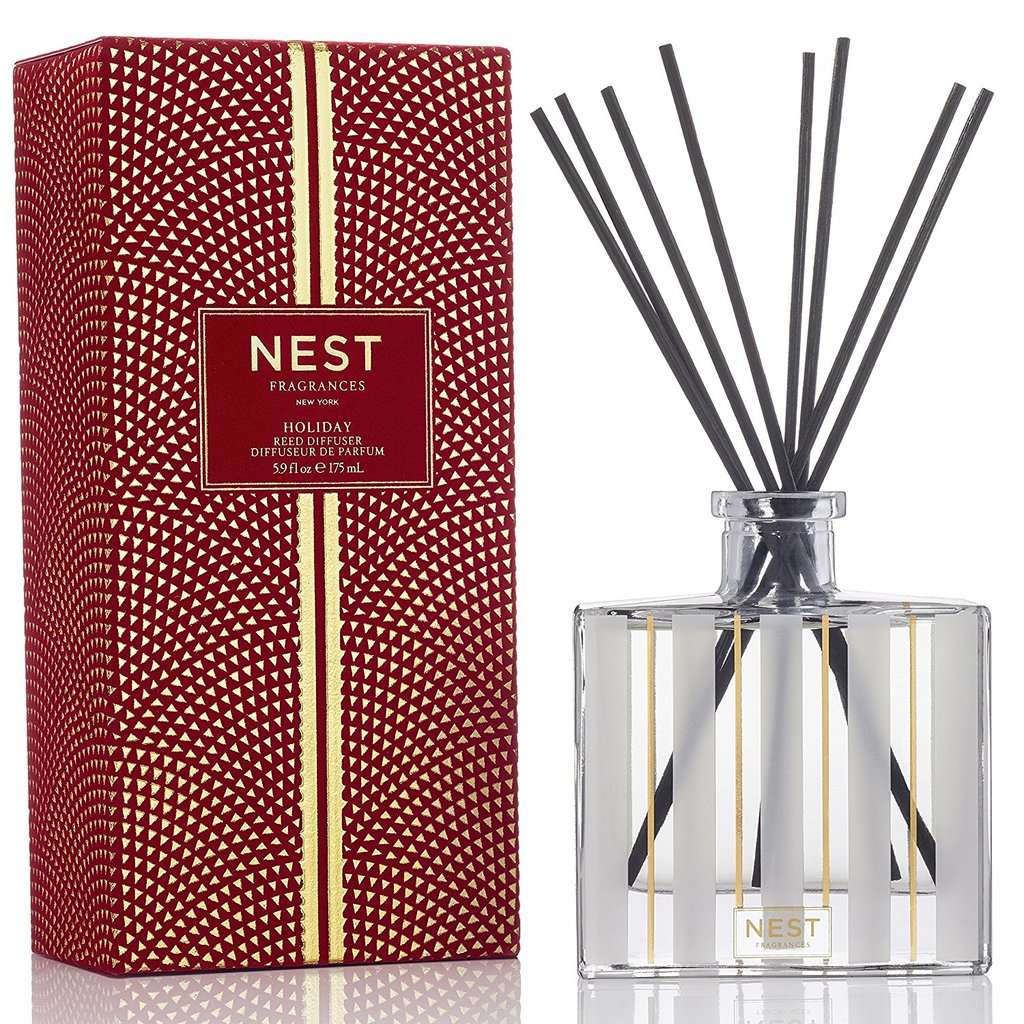 Missing that real-tree-smell?
Diffusers and candles are a great way to fill your space with scents if you are using artificial trees or have swapped out your tree for a more creative approach. Try these diffusers by Nest for small spaces where a candle and flame might not be practical, but you still want some delicious scents to circulate. Burke Décor also has some great candles by Nest in a wide variety of scents that are perfect for the cozy winter holidays and are sure to infuse your home with an inviting aroma.
Use what you have around you
Try decorating chairs, cabinet fronts, shelves, consoles with garland, lights, ornaments or a wreath. There are so many ways to make your existing furniture and living features more festive. If you don't have room for a tree, what about using some ornaments that feature plants or miniature trees? The garland would look lovely draped horizontally along an entryway, shelf front or gallery wall. Lights above a mirror and mini wreaths hung fetchingly from the backs of chairs and kitchen cabinet fronts add sparkle and spirit.
The kitchen is no exception to creative decorating ideas!
Fill serving bowls, cake stands or other kitchen pieces too big to go in a cabinet with ornaments or décor for a playful, decadent, or minimal design style. This is a perfect way to utilize "problem" items that take up space, while deputizing them to work with your holiday décor priorities.
As we mentioned before – hang some sweet ornaments from the front of kitchen cabinets or the back of your counter stools.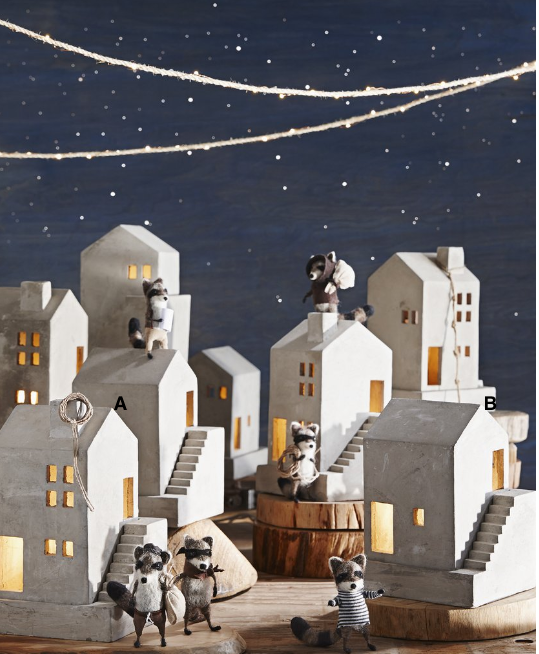 We are in love with these cozy little condos for the mantle.
They are screaming (quietly) in their minimal concrete adorableness and have a very petite footprint. Cheerfully lit condos cast in concrete create a festive scene. Fill with lights and install an artful architectural lighting scene. Each comes complete with a candelabra socket and eight foot clear cord with switch.
No mantle?
Here's a very DIY idea - use a curtain rod for hanging stockings or ornaments, dangle some
fabulous ornaments from the front of shelves, or a make a winter wonderland with some giant white snowflakes to create a backdrop for all the photos you and your guests will want to share.
Hot tips for cold climes
Hanging things up high and using floating lights will create space. Beware – too much modern holiday ambience may give you the illusion that you can host a much bigger party than you planned!
No matter if you inhabit warm climes or chilly temps abound, if your banquet reaches overflow capacity, you'll be glad you added some sparkle or lights to any outdoor spaces. These copper wire LED strands are fab, and we also have some traditional globe lights that will make your patio, deck or balcony twinkle.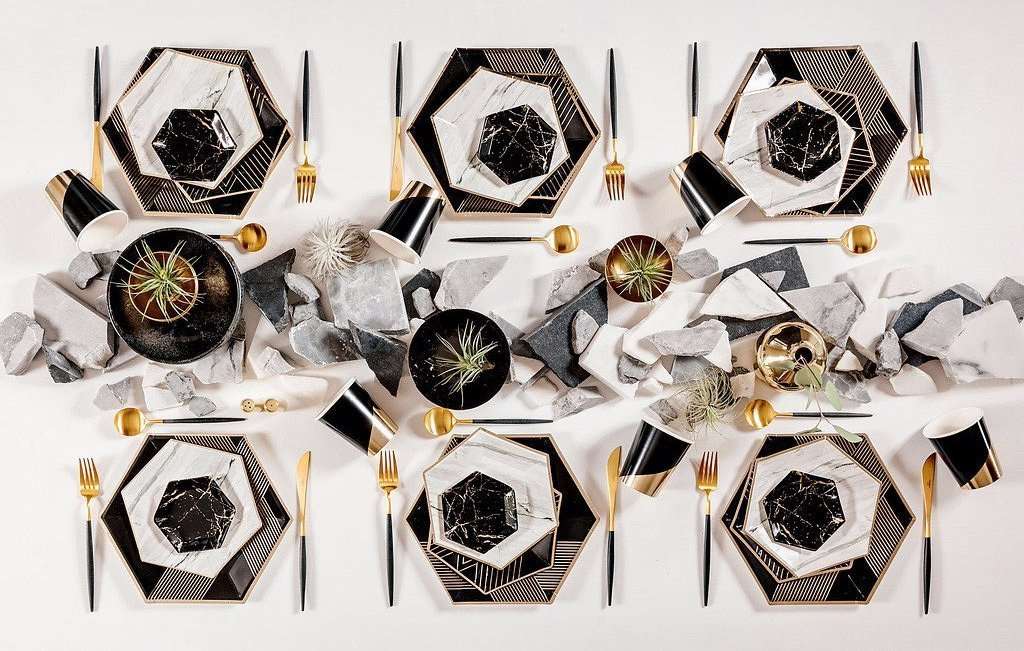 Make sure to have fun
There is nothing better than a party or intimate gathering with a host or hostess who is having fun, able to chat and focus for a few moments on enjoying the pleasure of good company.
So if your small space has no dishwasher, or not much counter space, or you'd rather just relax on a pouf while your friends and family make you laugh too hard, eliminate some of whatever creates stress when entertaining.
Having a gorgeous holiday spread does not require fine China because Harlow & Grey have a most amazing array of disposable party ware that is unbelievably stylish. You won't make any style concessions by using these paper goods, and at the end of the night you can kick off your shoes and leave the sink to entertain itself.
#Gratitude
Your small space and its expectations and limitations just might be the perfect excuse for you to offload the holiday traditions and décor that aren't a good fit for you and really highlight the holiday decorating style that makes you happy and works in your life. So this holiday season, embrace your space, however small it may be.
How To Decorate Small Spaces for the Holidays