How To Select the Best Rug for Your Space
Choosing the best type of rug for your space and needs is primarily a question of material construction, texture and durability, and then it's a matter of selecting the right size, color and shape to compliment your living space!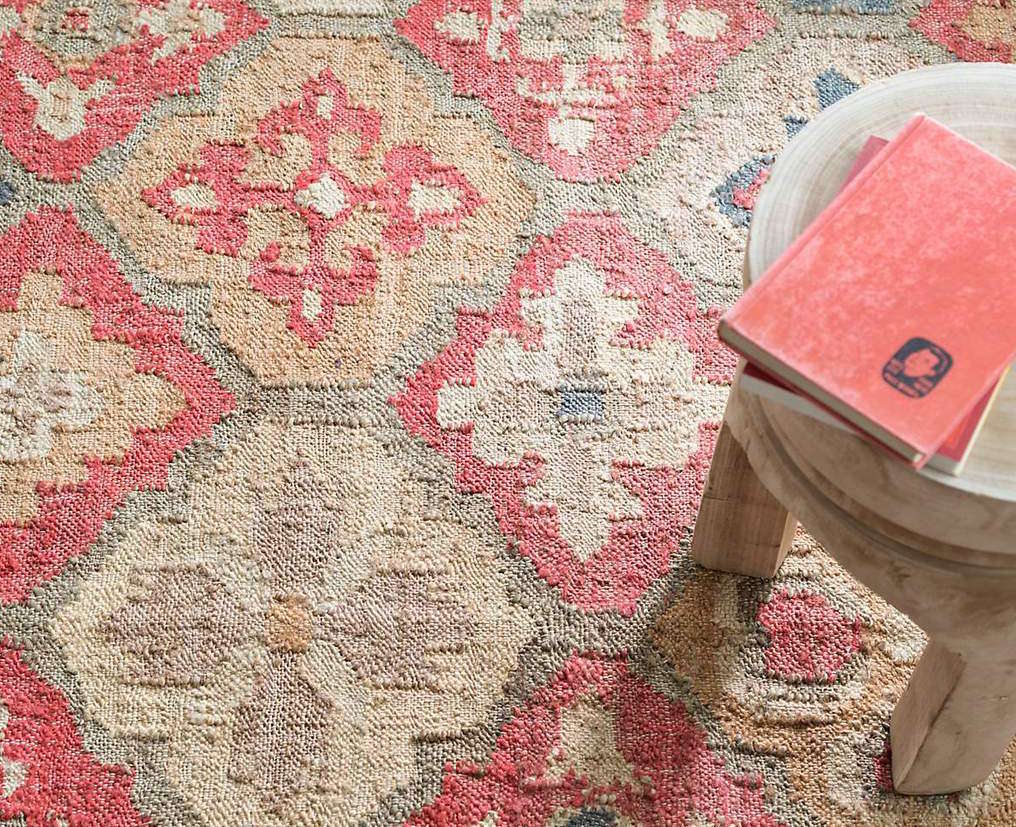 Burke Décor wants to give you the design tools you need to pick the most
stylish and practical rug, and some suggestions of our favorites from our
collection.

Rugs are the foundation of your living space that can pull everything in, and also give all your objects a platform to work up from. Choosing the right rug can be a bit daunting, but we have the best way to "sort your search results."
Read on for some practical advice and design tips. And don't forget the Rug Pad! Super important step to preserving the life of your rug and insure its proper installation, and we have some info on that towards the end.
Let's start with those materials.
Most rugs are made of either (or a combination of) synthetic materials, cotton, silk, wool, animal skins and other natural materials (like hemp, jute, sisal, bamboo and sea grass). These materials all have different textures, different care needs and different suitability for different spaces. We are breaking down their greatest virtues below with the most important things to keep in mind for ideal care and
consideration of location.
Synthetic rugs are not the astro-turf of yesteryear.
Improvements in their manufacture have made synthetic rugs much more pleasing in a tactile way, while still preserving the best features:
they can mimic natural fiber rugs
are easy to clean
family-friendly
some can be used outdoors or in damp environments
affordable
fun
Cotton is easy living and high style
Cotton rugs are most often flat-woven rugs like dhurries and kilims. There's also some fantastic and easy to clean area rugs available in organic, earthy colors to compliment a modern aesthetic.
Cotton doesn't always withstand the test of time, but it's usually pretty affordable when compared with wool and silk, so it allows you to the option of changing things up when you need a refresh.

Silk will always be romantic
Silk rugs are the most sumptuous rug choice you have. They have earned their reputation for softness and possess a sheen that you can't get from a wool rug. Silk rugs also require professional cleaning, and can show footprints, so you'll want to use them for bedrooms or low-traffic areas. Prepare to purr.

Natural Fibers are a win-win
Sisal, Jute, Sea Grass, Hemp, Bamboo and combination rugs are winning in categories of strength and sustainability. These natural fiber rugs are really versatile, very durable, and are often made from renewable resources with minimal to no chemical processing.
They can, however, shed or be coarse, and may be a cleaning challenge (these do not recover well from spills) , so make sure you read the specs of your natural fiber rug carefully. That being said, these make an excellent choice for high-traffic areas as they can withstand the demands of daily walking,
while still adding texture and style.
Animal Skin
Animal skins are best for low-traffic areas, but they are really versatile and there's a wide variety of construction methods. They may be made from one whole hide, or stitched together in panels.
Natural irregularities in pattern and color make for an interesting and soft contrast to crisp furnishings. They feel great under foot and offer a LOT of intrigue, style points and wow factor.
Wool forever
There's a reason that wool is the most common material used for rugs – it's durable and soft, it repels water and stains pretty well, it's insulating and cozy. Wool is really a great choice for almost anywhere, as long as it isn't damp or in bright sun (which can fade the colors). A wool rug may start out shedding, but that will pass, and otherwise they can withstand the test of time and daily usage.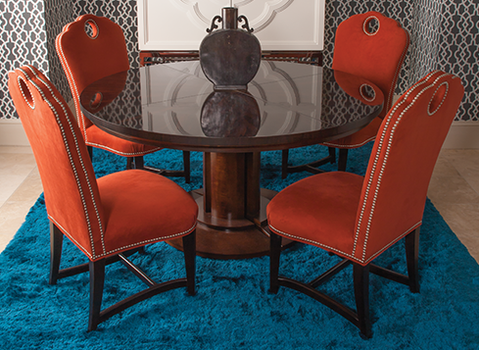 This gorgeous silk shag area rug is ideal for a more formal, low-traffic area and the bold shade is a perfect, vibrant foil for other strong colors and patterns.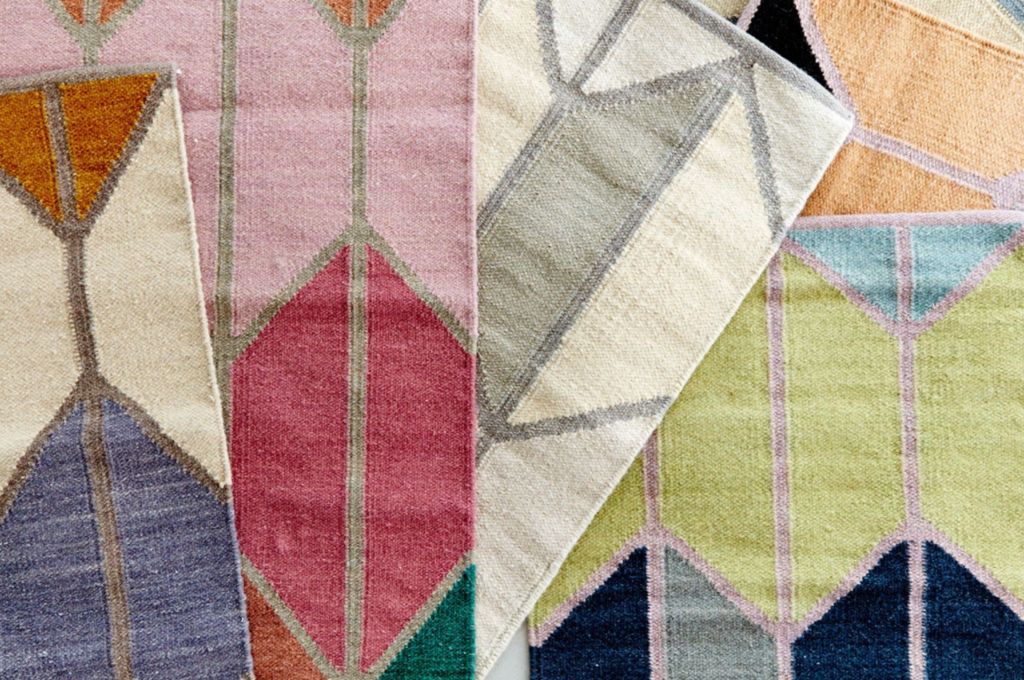 These fabulous cotton and wool geometric print rugs designed by Alyson Fox would really compliment a more minimal, modern style and add a pop of color to a room in a neutral palette.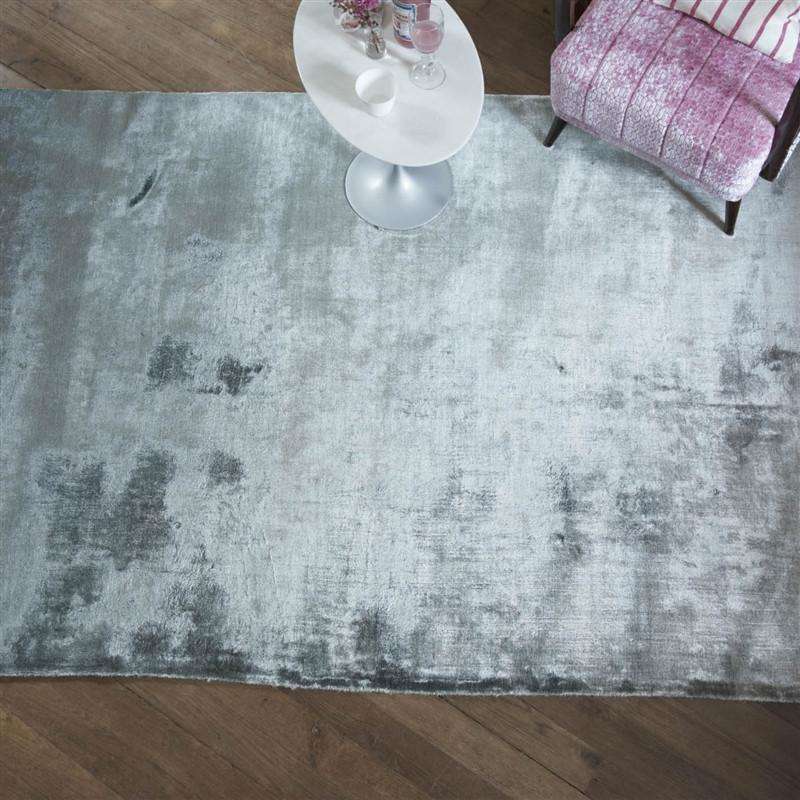 This synthetic area rug by Designer's Guild is so opulent and delicious and its lustrous slate ombre would pull together different finishes like wood, metal and glass.
Construction site ahead
How a rug is constructed has a big impact on the selection of your ideal rug for your space and usage. You'll need to make an informed decision about whether or not you want a tufted, flat woven, or hand hooked rug, and then how high the pile is going to be, if there is one. The look and feel, texture and longevity of your rug are going to be part of this process, so let's take a look at the nitty gritty.
Pile on (or maybe not)
A rug's pile refers to how "high" the rug is (if you measure from the backing to its surface, keeping in mind a rug pad, please), or how long the keep in mind practicalities about cleaning the rug, and also think through who will be using the area - a high pile shag rug can be a tripping hazard (again – that all
important rug pad is going to keep a low pile or flat-woven rug from slipping or bunching).


You may assume otherwise, but thick rugs are not necessarily better, or of higher quality. Thin rugs can be very finely made. The most important thing is that you are choosing the right pile height that is
suitable for your space and needs. Shorter pile rugs are easier to care for and vacuum, and can last longer than a high pile rug. High pile rugs can be more difficult to care for and can show marks from furniture legs or footprints.


In general, low pile rugs are less than ¼", while medium rugs are around ½" and plush rugs go up to ¾". Shag rugs will be even longer pile than that.


Texture and design
A well-curated room will have a combination of textures that are inviting and stylish. Aim for a layered mix of finishes and textures – smooth and fluffy, soft and hard. Think about how to create a luxurious
contrast between shag and leather, velvet and sisal, cotton and enamel, and so on.


Flat-woven rugs
Flat woven rugs are made on a loom and do not have a pile. They are often more easily cleaned and
may be reversible if there's no backing. These flat woven rugs are really idea for high traffic areas such as a kitchen, playroom, bathroom or entryway.


Hand knotted rugs
Hand knotted rugs are an ancient tradition, made by hand and often woven by artisans. Because of this,
hand-knotted rugs are unique from one another and often more expensive. These may be best suited to more formal spaces for entertaining, but not high traffic areas.


Tufted rugs
Tufted rugs are made with loops of yarn that are then sheared so you are left with a smooth cut-pile
surface. Tufted rugs can shed a lot, and may require more vacuuming. These rugs are a nice choice for family rooms, bedrooms, or living rooms.


Hooked rugs
Hooked rugs are also great for family rooms, bedrooms and living rooms. Unlike with a tufted rug, the yarn loops of the rug are left intact, not sheared, so it gives the rug a crafted, textured look.
You didn't forget about the Rug Pads, right?


Rug pads seem like they'd be an easy pass, but there's a number of really good reasons why that is not a good idea:
Rug pads prevent slipping and hold rugs in place
Rug pads dampen noise
Rug pads prevent scratches on your floor under the rug
Rug pads prevent any dye from your rug from staining or transferring to the floor or carpet below
Rug pads add cushion, making your rug feel softer and plusher
Rug pads extend the life of your rug
Burke Décor has a number of
rug pads
you can choose from to complete your rug installation process.
And now for the fun stuff!
First, you must start with a floor plan that includes existing and intended future furniture. That's a must. Then you can make your best decisions about…


Color
First decision: pattern or solid. A strongly patterned or boldly colored rug can completely elevate your room to the next level.

But you don't want to compete with other furnishings if you already have an array of color and pattern happening in the space. Then you may want to choose a single-color in a shade that complement what is already there, or go with a neutral that will keep everything working harmoniously.


Size & Location
Square room? Go with a square or circular rug.
Rectangular room? Go with a rectangular rug.


Other ideas – layer your rugs, combine area rugs and runners, and try an irregularly shaped hide or animal skin rug for a major style boost.


In a living room, rugs should fill the entire seating area, and ideally you want all four legs of the furniture on the rug. You can get away with the two front legs if need be, especially if your furniture is against a wall (not "floating").


In a dining room you want to be able to slide your chair back from the table and still be on the rug! This means you should add about 2 feet to each side of the size of your table to find the best rug size.


In a bedroom a rug that extends nearly wall to wall will dampen noise and create a quiet retreat, but you could also just extend it from the bottom 2/3 under the bed.
Or you could use a combination of runners on either side or at the foot of the bed.


Entryways are prime for a really sturdy, tough and durable rug that can withstand lots of foot traffic. Also – this is where you welcome guests to your home and it's a good spot for a rug that transmits your design aesthetic and represents the style of your home and lifestyle. Hall rugs should have about 6" of space on all sides.
Bathrooms are often overlooked in the rug selection process, but a full sized bathroom (not a powder room) is a perfect spot for a nice woven rug, ideally something cotton that can be thrown in a washing machine.

Outdoor rugs are great for splashes of color to offset neutral patio furniture and complement landscaping and foliage. Or you may want to go in a crisp, modern direction with a tranquil neutral shade.
Rugged Landscape
We can't resist a good (or horrible) pun.
We hope this has been enormously helpful, and that you are ready to peruse some of
Burke Décor's excellent collection of rugs
to find your favorites that are a perfect match for your space and usage. We
know you will choose wisely! You've got all the tools you need now.
How to Select the Best Rug for Your Space