Ceiling Fans: Modern Indoor & Outdoor Ceiling Fans
15
21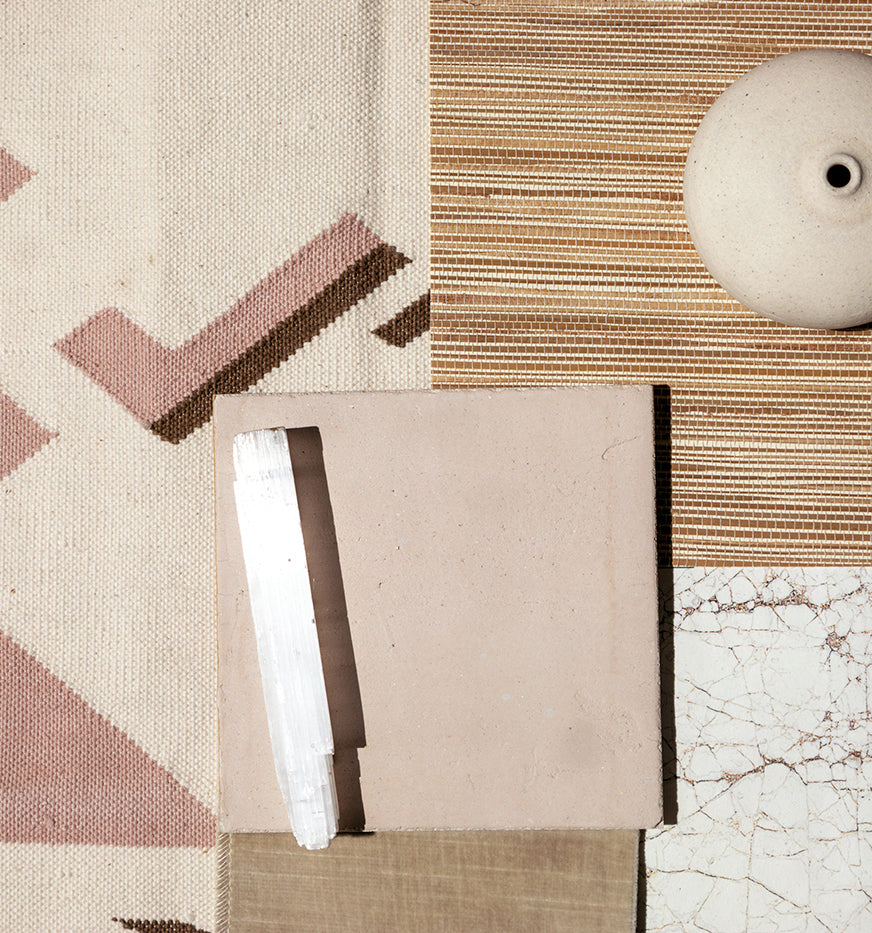 Questions, Answered
Guides & Resources
Easy ways to create interest on walls.
LEARN MORE
62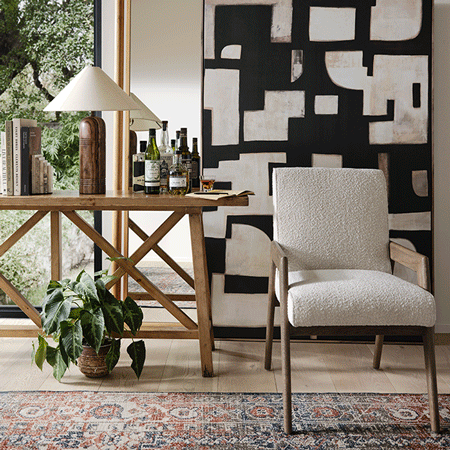 Inspiration on demand
Shop the Look
Find the look you love and shop it all in a few clicks. Curated designer interiors made easy.
SHOP THE LOOK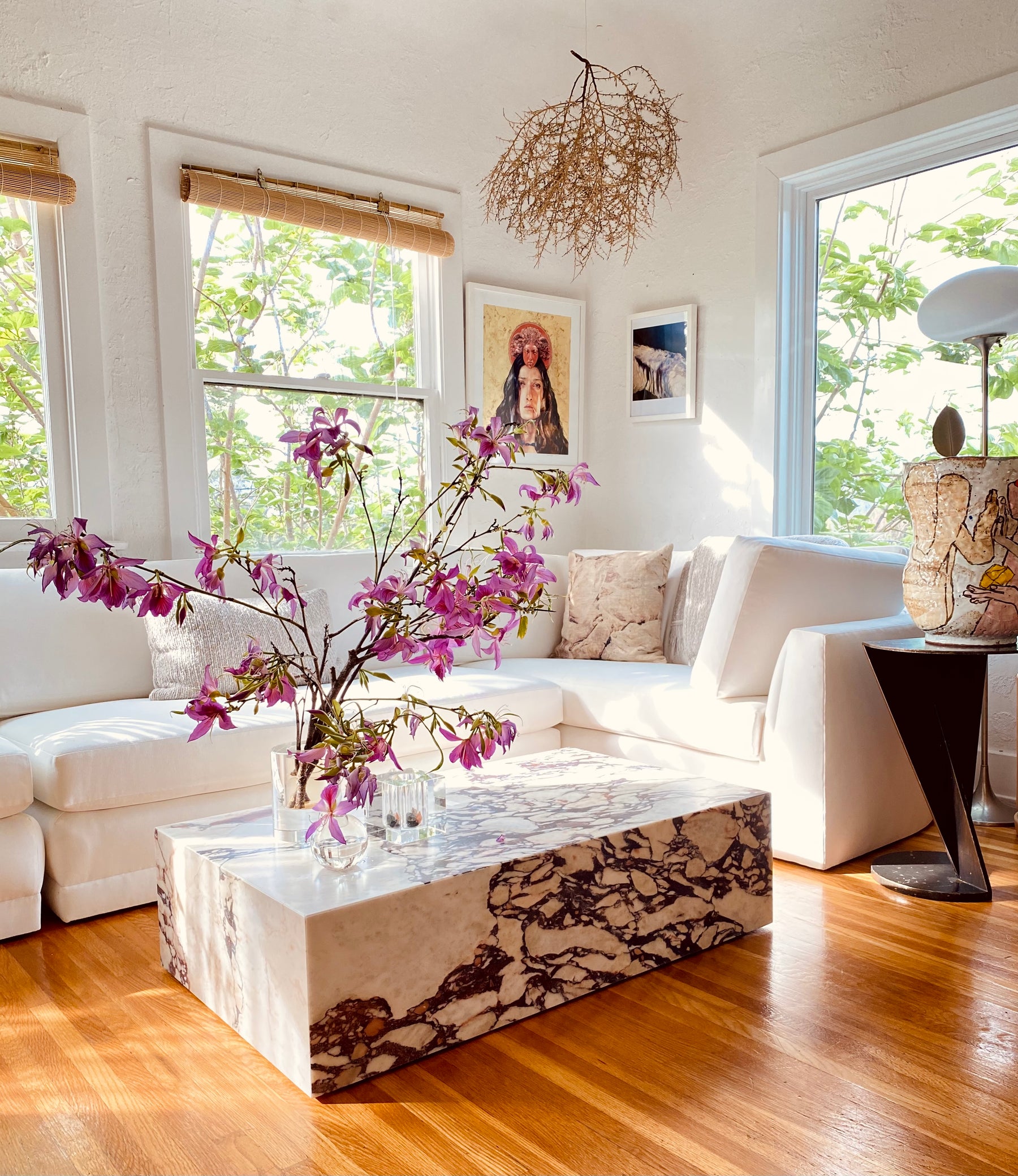 we love to see it
Shop our Instagram
Shop our feed or see how others have styled our best selling pieces. Submit your own beautiful interiors or tag us with #BDIRL on social to be featured.
SHOP OUR FEED
BDIRL
Ceiling Fans: Modern Indoor & Outdoor Ceiling Fans
With over seventy Ceiling Fans to choose from, Burke Decor's collection of designer Ceiling Fans will bring out the interior designer in you. Whether your space requires air circulation and light or a fan alone, our selection can accommodate your decor needs. The Aspen 56 Ceiling Fan features a sleek and modern design with a blade pitch designed for optimal air flow and a precision balanced motor and blades for wobble-free operation. Sleek and Modern, the Maverick 52 II Ceiling Fan resembles a futuristic propeller with three softly rounded blades and delivers incredible airflow, making this perfect in any room of your home. Bring cool, country charm to warm interiors with the Prairie 62 LED Ceiling Fan's stunning windmill-inspired blades. Bring a comforting glow and cooling air to any room with the Hicks 60 LED Ceiling Fan. Floral inspiration elevates the sculptural, contemporary aesthetic of the Lily 56 LED Ceiling Fan to a bright and whimsical level. With designs by top designers, Burke Decor's curated collection of modern Ceiling Fans are crafted from the finest materials including metal, wood, and glass. Elevate your space with light fixtures that compliment your design style. Burke Decor's expansive Ceiling Fans Collection can accommodate a myriad of design styles— including contemporary, mid-century modern, coastal, modern, transitional, and traditional design.
Burke Decor's curated collection of Ceiling Fans includes a wide variety of styles, shapes, and designs for your home decor needs. Burke Decor has endless options to curate the home of your dreams. Browse Ceiling Fans  below. All orders over $50 ship free to the 48 contiguous states.
Cleaning ceiling fans on a regular basis is essential to maintain their performance and prevent the buildup of dust and dirt. Here's a step-by-step guide on how to clean a ceiling fan:

Safety Precautions: Before cleaning the ceiling fan, ensure the fan is turned off and disconnected from the power source. This will prevent any accidental activation of the fan during the cleaning process.

Gather Cleaning Supplies: Prepare the necessary cleaning supplies, including a ladder or step stool, a pillowcase or dusting tool, a microfiber cloth or duster, a vacuum cleaner with a brush attachment, and a mild cleaning solution (such as a mixture of water and gentle dish soap).

Dusting the Blades: Use a pillowcase or a specialized ceiling fan dusting tool to capture the dust from the fan blades. Simply slide the pillowcase or dusting tool over each blade and gently wipe it along the length of the blade. This method helps prevent the dust from falling onto the surrounding area.

Vacuuming: If there is excessive dust buildup on the fan blades, you can use a vacuum cleaner with a brush attachment to remove the loose dust. Gently run the brush attachment over the blades, being careful not to apply too much pressure.

Wipe Down: Dampen a microfiber cloth or sponge with the mild cleaning solution. Wipe the fan blades, motor housing, and any other accessible parts of the fan. Be cautious not to let excess liquid come into contact with electrical components. If necessary, wring out the cloth or sponge to avoid excessive moisture.

Dry Thoroughly: After wiping down the fan, use a dry microfiber cloth or towel to remove any remaining moisture from the fan blades and housing. This step helps prevent water spots or potential damage caused by prolonged exposure to moisture.

Reassemble and Inspect: Once the fan is dry, reassemble any removable parts and double-check that all screws, bolts, or fasteners are properly secured. Inspect the fan to ensure everything is in good working condition before turning it back on.

It's advisable to clean your ceiling fan regularly to prevent excessive dust accumulation. The frequency of cleaning will depend on factors such as the fan's location and the level of dust in the room. By maintaining a clean ceiling fan, you can ensure optimal performance and cleaner air circulation in your living space.
There are several different types of ceiling fans available on the market, each with its own features and design. Here are some common types of ceiling fans: Standard Ceiling Fans: Standard ceiling fans are the most common type and come in various sizes and styles. They typically consist of a central motor housing with fan blades attached to it. Standard ceiling fans can have different numbers of blades, ranging from three to five or more. They provide general air circulation and come in a wide range of designs to suit different interior styles. Low-Profile Ceiling Fans: Low-profile or hugger ceiling fans are designed for rooms with low ceilings. These fans have a shorter downrod or are mounted directly flush to the ceiling, allowing them to provide adequate air movement while maintaining a lower profile. They are ideal for rooms with ceiling heights less than 8 feet. Outdoor Ceiling Fans: Outdoor ceiling fans are specifically designed to withstand outdoor conditions. They are constructed with materials that are resistant to moisture, humidity, and exposure to the elements. Outdoor ceiling fans can be installed on covered patios, porches, or other outdoor areas, providing both comfort and style. Energy-Efficient Ceiling Fans: Energy-efficient ceiling fans are designed to consume less energy while maintaining effective air circulation. They are equipped with energy-saving motors, aerodynamic blade designs, and advanced controls. These fans can help reduce energy consumption and lower utility bills. Dual-Motor Ceiling Fans: Dual-motor ceiling fans have two motors and sets of blades, offering increased airflow and unique design aesthetics. The motors can be operated independently, allowing for different speeds and blade directions. Dual-motor fans are often used in larger rooms or spaces that require enhanced air movement. Remote-Controlled Ceiling Fans: Remote-controlled ceiling fans come with a handheld remote that allows you to control various fan functions such as speed, direction, and light settings from a distance. This convenience eliminates the need for manual operation or wall-mounted controls. Smart Ceiling Fans: Smart ceiling fans are equipped with built-in Wi-Fi or Bluetooth connectivity, allowing you to control them using your smartphone, voice commands, or home automation systems. They offer features like remote operation, scheduling, and integration with smart home platforms for enhanced convenience and energy efficiency. Retractable Blade Ceiling Fans: Retractable blade ceiling fans have blades that can be extended or retracted when the fan is turned on or off. When not in use, the blades are concealed within the fan housing, giving it a unique and visually appealing design. Retractable blade fans are popular in modern and contemporary interiors. When choosing a ceiling fan, consider factors such as the size of the room, ceiling height, preferred style, desired features, and energy efficiency ratings. It's also important to ensure proper installation and maintenance for optimal performance and longevity.
Before buying a ceiling fan, it's important to consider several factors to ensure you choose the right fan for your needs and preferences. Here are some key points to know before making a ceiling fan purchase:

Room Size: Consider the size of the room where the ceiling fan will be installed. For larger rooms, you may need a fan with a larger blade span to provide adequate air circulation. Conversely, smaller rooms may require fans with smaller blade spans. Manufacturers typically provide guidelines for the recommended fan size based on room dimensions.

Ceiling Height: Determine the height of your ceiling. Standard ceiling fans typically require a minimum clearance of 7 feet from the floor to the bottom of the fan blades for safety. For higher ceilings, you may need to consider an extended downrod or an alternative mounting system to ensure proper installation and optimal airflow.

Blade Material and Design: Consider the material and design of the fan blades. Fan blades can be made of various materials such as wood, metal, or plastic, each offering different aesthetics and performance characteristics. Additionally, blade design can affect airflow and efficiency. Look for blades designed to optimize airflow while operating quietly.

Energy Efficiency: Consider the energy efficiency of the ceiling fan. Look for fans with the ENERGY STAR label, as they meet strict energy efficiency standards. Energy-efficient fans can help reduce energy consumption and lower utility bills, especially when used in conjunction with air conditioning or heating systems.

Noise Level: Consider the noise level of the fan. Fans with high-quality motors and well-balanced blades operate quietly, providing a comfortable and peaceful environment. Read customer reviews or look for noise ratings provided by manufacturers to gauge the fan's noise performance.

Lighting Options: Determine if you want a ceiling fan with integrated lighting. Some fans come with built-in light fixtures, while others are designed to be light kit adaptable. Decide whether you prefer the fan to serve as a primary light source or if you have alternative lighting in the room.

Controls and Accessories: Consider the control options and accessories available with the ceiling fan. Fans can be operated using wall-mounted controls, pull chains, remote controls, or smart home systems. Determine the control method that is most convenient for you. Additionally, check for any additional accessories or features such as reversible blade direction for winter use or light dimming capabilities.

Style and Aesthetics: Select a ceiling fan that complements the style and decor of your room. Fans come in various designs, finishes, and styles to match different interior themes. Whether you prefer a traditional, modern, rustic, or contemporary look, choose a fan that enhances the overall aesthetics of your space.

By considering these factors, you can make an informed decision when purchasing a ceiling fan that fits your room, style, and functionality requirements.



Here are some ceiling fan styles that have been in vogue:

Minimalist and Modern: Clean lines, sleek finishes, and minimalist designs have been popular in modern ceiling fans. Fans with simple, understated aesthetics that blend seamlessly with contemporary interiors have been favored by many homeowners.

Industrial and Rustic: Industrial-inspired ceiling fans featuring exposed metals, distressed finishes, and vintage elements have gained popularity. These fans add a touch of rugged charm to spaces with industrial, rustic, or farmhouse themes.

Mid-Century Modern: Mid-century modern designs have made a comeback in recent years, and ceiling fans inspired by this era have become sought after. Look for fans with retro-inspired shapes, wooden blades, and finishes that capture the essence of the mid-century style.

Statement Pieces: Ceiling fans that make a statement have become a trend. These are often larger fans with unique designs, eye-catching finishes, or elaborate blade shapes that serve as a focal point in the room. These statement pieces can enhance the overall aesthetics of the space.

Smart and Connected: With the increasing popularity of smart home technology, ceiling fans with smart features have gained traction. These fans can be controlled remotely using smartphones or integrated with voice assistants and home automation systems for added convenience.

Energy Efficiency: Energy-efficient ceiling fans have been in demand as homeowners become more conscious of their environmental impact and energy consumption. Fans with energy-saving motors, LED lighting, and advanced controls that optimize efficiency have become popular choices.

Remember, interior design trends can vary over time and can be influenced by individual preferences and regional styles. It's always a good idea to choose a ceiling fan that aligns with your personal taste, complements your space, and suits your specific functional requirements.